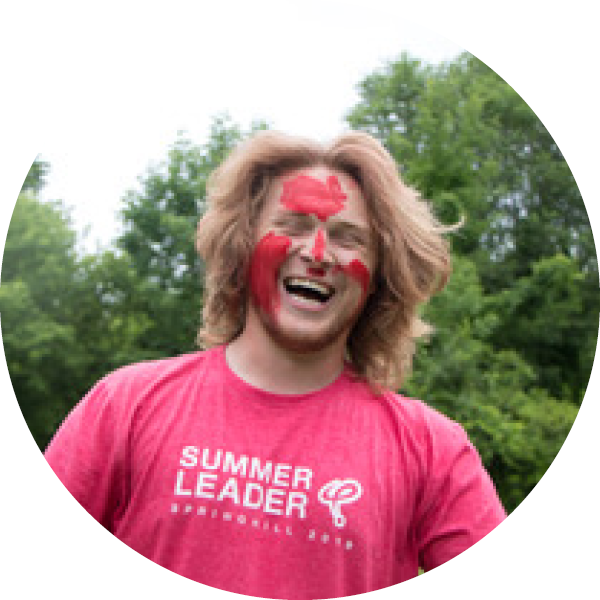 I have had the pleasure of knowing Noah for the past couple of years. Noah is a junior at Oakland University studying Communication. He joined Cultivate in the winter of 2019 and has grown immensely in the faith since. Noah's faith was young when he joined Cultivate, in fact he gave his life to Christ a week before joining. Despite being so young in the faith, Noah's heart for the Lord and his desire to pursue God has helped Noah to mature greatly in the faith and as a leader.
When Noah entered Oakland University as a freshman in 2017 one thing was clear, Noah was good at connecting with people. Noah's winsome personality, humor and tender-hearted spirit quickly brought him many new friends within the first few months of school. Noah quickly became known around Oakland's campus and developed a reputation for being a fantastic guy. During this time, Noah's faith was stagnant. He grew up learning the basics of faith, but never connected with God personally. In high school Noah transferred to Lake Orion High School and made friends with a group of people who were on fire for the Lord! They peaked Noah's curiosity in the faith, and he began to attend church irregularly.
His life continued into his freshman and sophomore year at Oakland University and he began attending Younglife, a campus ministry at Oakland, but admits now that he did not really know what he was searching for. Noah truly enjoyed meeting with Younglife on a weekly basis and tremendously appreciated the encouragement they offered. Noah's friends continued to encourage and inspire Noah to search for God, but he continued to feel like he did not deserve a relationship with God. As Noah's search continued, he found great success on campus, he was offered various jobs, became well known within campus life, and did well in his classes but despite his success he felt like there was something missing.
In the winter of his Sophomore year Noah attended Younglife's winter retreat. On Saturday, during Younglife's evening message, there was an opportunity to receive Jesus. It was in that moment that the holy spirit moved powerfully in Noah's life and he was filled with emotion. Noah accepted Christ in a moment of true surrender to Him.
As Noah returned to school after the retreat it was clear that there was something different. Noah was a changed man; he was a man on a mission to make an impact on the lives of the people at Oakland. Noah's personality has always given him influence and helped him to promote different activities on campus, but after giving his life to Christ, Noah began to use his influence to invite people to Bible studies, church, and campus ministries. Noah became one of the core outreach members of Younglife without even taking a leadership position. He began inviting everyone he knew and helped shape the spiritual journeys of many of his friends. Noah began meeting with Kyle Vens, the director of Cultivate. They walked through the foundations of the faith and discussed some of the early struggles of following God.
As his sophomore year ended Noah took on the challenge of becoming a counselor for Springhill camps. Noah worked with children ages 5-11 and traveled the metro Detroit area sharing the gospel and leading fun activities for the kids. Over the summer Noah learned so much about himself and about what it means to truly follow Jesus. Noah gained confidence in sharing the gospel, learned what it meant to pursue God daily, and gained a fuller understanding of Jesus's person.
As the summer ended and Noah began to think about where he would like to get involved on campus, he was given an opportunity to work with an international ministry serving foreign exchange students and working professionals in the Oakland county area. Noah began working with Connect the Nations run by one of Cultivate's dear friends, Alexa Lawlor, towards the end of the summer. This year Noah has had the chance to connect international students to conversation partners, help plan and throw holiday events, develop relationships with students and lead Bible studies. Noah's gifting has truly allowed him to thrive in this role and has helped him to gain direction in his future career path.
In addition to serving within Connect the Nations, Noah played a significant role in Cultivate's success this year. Noah's ability to connect with others and form relationships allowed him to start mentoring a few young men gave him the opportunity to lead a couple of his friends to the Lord. In addition to mentoring other students Noah has developed a keen interest in apologetics, the study of philosophical, logical, and scientific reasons for the existence of God. Noah has become a well-read apologist and loves meeting with people from various religious backgrounds.
Noah has done incredible things this year and has made a significant impact in the lives of numerous students at Oakland, but what may be more impressive is the maturity that Noah has developed. Despite being relatively new to the faith, he demonstrates the wisdom and humility of someone much older. Noah's willingness to surrender before God is truly inspiring. One of the many reasons for Noah's growth is that he began meeting with one of cultivates other mentors, Dave Shuman. Dave is the youth pastor at Citylight Church and has been an amazing influence on Noah's life. Dave has been an encourager, challenger and friend to Noah and has helped Noah to see the world through a different lens. Noah's wisdom is being noticed by those around him and others are beginning to seek him out for counsel. Noah has become a spiritual leader on Oakland's campus and is making an incredible impact on the Kingdom.
As Noah is getting ready to enter his senior year, he longs to make an impact for the Kingdom. Currently, he has various opportunities to be involved in youth ministry, college ministry, or continue pursuing international ministry in front of him. He has not yet decided where he would like to serve, but one thing is certain. Noah will make an impact regardless of which organization he chooses to be a part of.
Noah isn't sure what he would like to do with his degree in Communication. He doesn't have a clear direction on what profession he would like to have. Although he may not have a clear profession, he does have a clear goal: to serve the Lord with everything he has. Noah's heart yearns for God and whichever route Noah pursues, whether in ministry or not, Noah is going to make an impact in the kingdom.
This is a quote from Noah about his time in Cultivate.
Cultivate has genuinely helped me grow in my faith to a point beyond recognition. Cultivate provided me the opportunity to connect with a couple mentors, a life group, and a course in which I could discover and explore my passion for apologetics. Kyle does a phenomenal job helping to guide young Christians into a truly beautiful relationship with the Lord and I am more than thankful for this ministry.
This is a quote from Alexa Lawlor, Director of Connect The Nations, a ministry with which Noah served.
Noah has been a joy to have as an intern serving Connect the Nations! During the stay in shelter order we launched virtual small groups for international students! Noah has been an active member of this bible study and had the chance to lead a few. In the fall Noah helped match American students who In the fall, Noah helped to match at least 11 American students who love the Lord with an international student who wanted to practice their English. One of the Chinese students that got connected with a friend of Noah's had tears in his eyes when he spoke of how much he appreciated being able to meet with his American friend each week. One of Noah 's great strengths is Woo, according to Clifton StrengthsFinders, which means he has an ability to connect with people and win them over, It has been beautiful to watch Noah use his gift for the advancement of the kingdom! Noah connects with people very easily and has been a delight to have as part of Connect the Nations team!
This is a quote from Kyle Vens, Director of Cultivate.
As I reflect on Noah's journey over the last year the only word I can bring myself to say is wow. Noah has grown as a leader and as a man of God beyond anything I could have ever imagined. As I think about Noah there are three things that come to mind: a desire to understand, a heart of humility and a willingness to serve. Noah is a deep thinker! He is always willing to ask questions about God, the church and why Christians do the things that they do. Within Noah's quest to understand it pushes him deeper into the faith and in the word as he searches for answers. An example of this happened a few days ago when he told me he had stayed up late at night in bed trying to understand why people say that "God will give you the desires of your heart" and if/when that is true. The following day Noah and I spend over a hour discussing the topic and learned from each other on the topic. I believe that one of the biggest reasons for Noah's growth is his humility. Noah truly lives out Romans 12:3 which says "Do not think of yourself more highly than you ought, but rather think of yourself with sober judgment, in accordance with the faith God has distributed to each of you" he knows himself, his limits and his strengths. Noah's willingness to hear from other peers and mentors has helped him to grow in his knowledge and understanding of the faith. Lastly, Noah has a desire to serve others! If Noah is able to do something he's going to help. He is willing to serve whether in a high position or low ones. I watched Noah speak, lead bible studies, disciple, move furniture, and deliver food with a heart grounded in Philippians 2:3-7. I am so proud of Noah and am thankful to know him and call him one of my good friends!