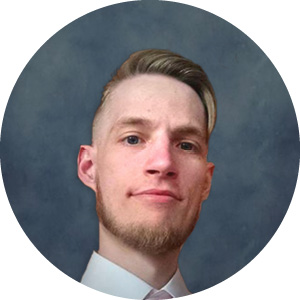 Identity Formation (Before High School):
DC grew up in a suburban, white, Catholic family. But, it was clear that church was about religion and not relationship and his parents divorced when he was 7. He was the third of three siblings and his relationship with his old brother grew increasingly hostile after the divorce. Though he knew his parents loved him and both remained present in his life, his father often seemed to put work first and wasn't always able to his kids. His mother also had her share of struggles and even remarried two years later into a family (with two more older step-siblings in the mix) that was verbally abusive towards her, only to divorce from them about eight years later. His constantly changing family also frequently moved. He grew more and more depressed through all these things and even more distant with God, until finally - after his Godmother passed away from breast cancer - he stopped believing in God. He began to believe that he was worthless, because no one cared about him and even tried to be someone else, just so he could belong. He was even suicidal for a time, and the darkness surrounding him was overwhelming. In spite of it all, he can look back and see moments where God kept his hope alive and challenged him to live, though he could not always understand why.
Identity Struggles (High School to College):
By high school, his identity was as fluid as waves of the ocean. He constantly sought escapes from the pain he felt and longed for consistency, retreating into video games, fantasy and later (in college) into alcohol and partying. While he was a junior in high school, he passed out while he was driving home from school due to low blood sugar and stress and rolled his car into a power line. Miraculously, he awoke in complete peace and came out of this accident with only a surface scratch on his forehead (from the busted windshield) and an abrasion from the seat-belt. The doctors ran a whole battery of tests on him and were amazed that someone who was in that car came out not only alive, but in excellent condition. It was then that he realized there had to be a God and that he must be alive for a purpose.
It was in college, where that same older brother he despised began to follow Jesus and invited him to do the same. Reluctantly, he went along to his campus ministry and encountered the love of Christ in many he met there. His relationship with his brother healed completely and they became good friends as they began to follow the Lord together. His experience with campus ministry transformed him - along with many others he knew, such as his brother and best friend - so radically, that he knew he was being called to campus ministry somewhere down the road.
Career Focus (Post College):
DC graduated from Eastern Michigan University in 2011 with a Bachelor's degree in Creative Writing and began to look for opportunities to write, putting the plan to work in campus ministry on the back burner. In 2013, things turned around for him, and God began prompting him to get back to campus. He got connected with Cultivate (before it was Cultivate) through Cam as the two of them met by divine circumstances that summer. DC had recently taken steps of faith in obedience to God that led him to volunteering at a local church that he had never stepped foot in with a group of guys he had been meeting with for only about a month. These guys introduced him to Cam and moments later - as Cam needed a ride to Royal Oak to pick up his car from the shop - DC volunteered as he felt the Holy Spirit prompting him to do so. The two of them had simply shaken hands and gotten each other's names, as Cam was in the middle of an important conversation when they met and DC had driven his group of friends to this church, so it didn't make a whole lot of sense. Nevertheless, DC asked his friends if they could get a ride to small group should he be late in getting back to the area because he knew he was supposed to love others as Jesus did and serve in this way. By the end of the car ride, Cam asked if DC had ever considered full-time support-based Campus Ministry. DC didn't think he would start in that direction until later un, but after he had a few more talks with Cam, it was clear that God had brought them together for this purpose.
Around the same time, DC had begun to get very sick mysteriously and had no health insurance. He ended up losing about 50 lbs in a matter of months as he could hardly eat anything without getting sick. It was a scary time, but through God's miraculous provision and the love and support of local believers, he was able to get medical help, become diagnosed with Crohn's disease and begin to receive treatment and awareness of how to live with this disease. Through all of this, he did not give up and was able to turn to God even more. He began to heal and recover and kept moving towards becoming a full-time campus missionary by going to training, building a bigger church network to support the work that he was called to do and beginning to raise support. He has gained back about 30 pounds of what he lost and is more consistently healthy, though Crohn's is a lifelong struggle.
He has been challenged in every way through church splits and changes in church leadership around him that resulted in even more chaos. Through all of the trials and the suffering, he leaned on God and grew even closer to him and became even more prepared for the work God was calling him to. The struggles might have slowed down his progress in terms of getting funded to get on campus, but they have served to build him up and provided examples of what it means to serve God sacrificially with joy and love. This has helped him as he meets with and challenges young men, as he teaches and serves alongside groups of college students and youth and as he has recently begun to lead a men's discipleship house founded around the principles of Acts chapter 2, verse 42 - "They devoted themselves to the apostles teaching and the fellowship, to the breaking of bread and prayer."