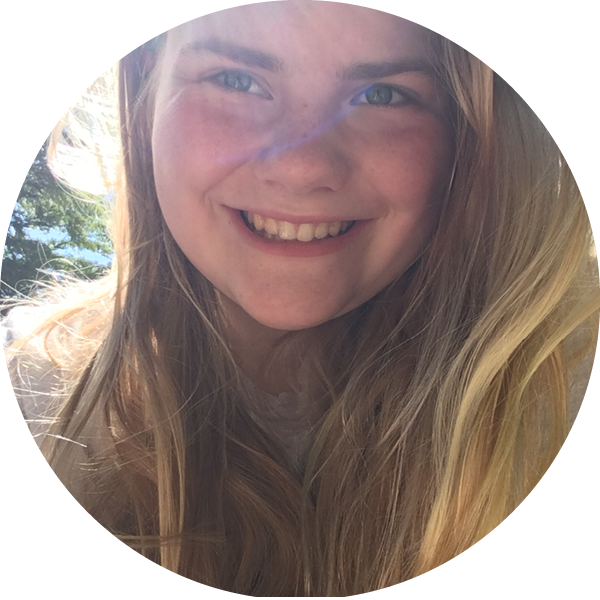 Ariel is a senior at Oakland university studying secondary education. She is an incredible woman of character and leader. Ariel is working as Cultivate's intern this year and is looking forward to making an impact on the lives of the students. This year as Cultivate's intern Ariel will be mentoring a few young women, taking an active leadership role within a campus ministry and starting a branch of a ministry that she is passionate about. One of her biggest goals this year is to create a safe space for people to openly talk about themselves.
In Ariel's senior year of high school she worked as a mentor in the Genesee County Young Life program so going to Oakland University, she was familiar with Younglife and was excited to get involved. When she first arrived at Younglife college club events, she felt welcomed by loving and supportive people. She was quickly able to develop close friendships with people and became a regular attender of the large group events. Ariel always has a knack for leading.As a freshman Ariel expressed interest in leading and began helping out with set up and tear down. Throughout her freshman year Younglife helped Ariel grow in her faith. She was able to learn from many of the leaders who helped give her new perspectives on The Word and on leading. Young LIfe was a platform that helped launch her into finding new ways to serve this community.
As Ariel entered her sophomore year she took a larger role in Younglife's leadership. As she got more involved she encountered different situations that pushed her to grow in her faith. These scenarios required her to work on patience, faith, and surrender previous beliefs as she worked in a variety of positions. She learned how God was working through her in challenging and exciting situations as she transitioned leadership roles both at Young Life and in her church. Cultivate saw Ariel's desire to grow and invited her to join the Cultivate process. Cultivate asked Ariel to join the leadership development process in the spring of her sophomore year. Ariel began meeting with Alexa Lawlor, her mentor, and they bonded immediately. Alexa has played a huge part in Ariel's spiritual development and has helped Ariel grow as in her maturity and as a leader in the faith. Through their time together Ariel has explored new depths of her faith walk with the Lord and allowing Him to guide her to the right places at the right times. It has not always been an easy path for her, but the more she grows in her abilities, the more she is able to shine God's light and love for others.
Currently, Ariel is serving as a leader for Young Life for the third year, leading a women's bible study group for other women to come together and support each other in learning about God. She is an active member of a Kensington Bible study group that helps her find new ways to interpret scripture and interact with other young adults. As an intern, she is still finding her passions and pursuits, but this has led her to a new vision that she hadn't considered before. Her hope is that she may be able to lead a support group for young adults who have experienced trauma in different ways. She has shared this dream with a few others and continues to research and build a structure for this kind of group, but the dream is to have this open for young adults in the area that can find a safe place to share their experiences, lean on each other for support and encouragement, and allow God to heal their wounds.
"Ariel is an incredible young woman. I am continually astounded by her maturity in the faith and ability to handle stressful situations calmly. Ariel is one of the foundational pieces of Younglife's leadership team and has played a huge part in their growth. Her ability to see things from other perspectives allows her to not only be a great planner of events but also a good listener. Ariel's ability to be empathetic and listen to others without judging is incredible. I have seen Ariel have conversations with people from different backgrounds or opposing views than her and her handle to conversation with grace and maturity. In addition to being a good planner Ariel embodies what it means to be a servant leader. Throughout the years Ariel has been willing to take positions in leadership that are not very glorious and don't offer much praise. Ariel has taken it upon herself to cook for the students, stay back to help clean up, go on grocery runs late at night and through it all has never complained or been upset that she didn't get recognition. Ariel's humility and willingness to serve in any position has shaped her into the person she is today. It is because of Ariel's humility and maturity that the Cultivate leadership team asked Ariel to be an intern this year. We could not be more excited to see how Ariel uses this position to make a bigger impact in the kingdom of God." -Kyle (Director of Cultivate)
"Ariel has been a pleasure to connect with! Ariel always takes the initiative to schedule time with me which shows her commitment to our relationship and when we meet she always makes it a point to ask about me and how I am doing also! Ariel's compassion and consideration for others makes her a joy to meet with and I am so thankful for our time together. Her ability to care for others makes Ariel well-suited for her intended profession as a teacher and in her ministries! Ariel has a heart for reaching out to others—one example of this: While serving as a conversation partner and friend to an Arab woman who was expecting her first baby, Ariel wanted to have a baby shower for her—if not for the pandemic i'm confident she would have. It's been beautiful to see Ariel's willingness to serve—whether it is to be part of the worship team at a local church, working within Younglife or welcoming people at a service for the international friends, she has demonstrated a servant's heart. One of Ariel's greatest strengths is her willingness to apply what she is learning to her life. As Ariel reads scripture she takes to heart what she thinks God is calling her too and tries to apply it to her life. It is such a pleasure to know Ariel! There is no doubt in my mind that God has big plans for her, and I can't wait to see how she steps into her future leadership roles in the future." -Alexa Lawlor (Ariel's Mentor)
"Cultivate has been such an amazing experience for me. I'm so thankful to be guided and supported by wonderful mentors and peers. I've really appreciated the efforts my mentor, Alexa Lawlor, has put into mentoring me. Our shared moments of serving, loving, and enjoying each other's company has been so fulfilling in my life. She has helped me open doors that I may not have considered going through before. Meeting people like Alexa has been a real blessing from God. I really feel that everyone I have met in Cultivate has encouraged and supported me in so many ways. I hope that I can continue to pursue God to the fullest and discover more ways I can serve Him and lead others in their faith walk." -Ariel
Written by Kyle Vens, Director of Cultivate